Microsoft is reportedly working on a Microsoft Surface Go tablet powered by AMD's Ryzen mobile processors. This was disclosed by an MS employee (anonymously) on the TabletPCReview forums, claiming that Intel's repeated delays have forced Microsoft to look at alternatives. This isn't surprising considering that the two companies recently collaborated on the Ryzen Edition of the Surface Book.
According to the source, Microsoft is presently testing the very low power Dali-grade chips for use in the Surface Go 2 successor. At present, there are still issues with the excessive heat dissipation (considering that Dali is originally a 15W chip), but the power draw/performance envelope is a major step up from the Intel Core m chips leveraged in the Go 2 tablet.
Keep in mind that these are still the early phases of testing and the final product will likely be completely different, possibly even based on a new SoC. It's possible that AMD will work on a 5W variant based on its 7nm Zen 2 core now that the Renoir parts are out on all platforms. The markedly higher efficiency of the 7nm process makes it a rather tempting decision. Furthermore, Dali was based on the 1st Gen Zen core, so going with an outdated core design for a major product like the Surface Go certainly won't be wise.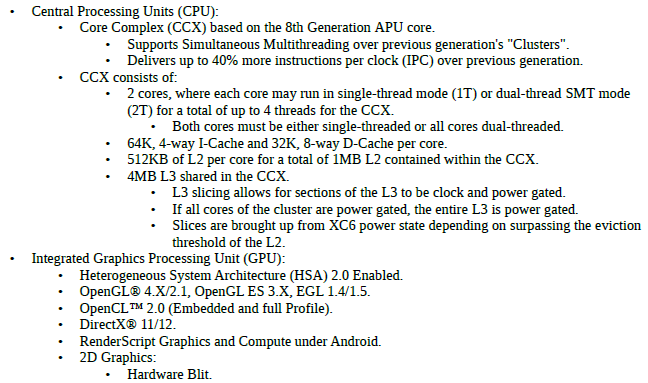 Update: AMD today released the Processor Programming Reference for the Ryzen CPU family and it actually does mention a thermal design of 4.5W to 15W for SoCs based on Dali. This gives further credence to the above-mentioned rumor.
Interestingly, the documentation mentions 2-core CCXs with support for SMT. Each CCX packs 1MB L2 cache (512KB per core) and a total of 4MB shared L3 cache. L3 slicing is something that has been implemented to allow different sections of the L3 to run at different power and clock speeds. This is something missing from the 15W Picasso and Renoir mobile parts. Furthermore, as if it wasn't obvious the CCXs on those notebooks each consist of 4 cores each. Here, they've been reduced to 2 for ultra-low-power devices.