Intel's Tiger Lake CPUs continue to impress. This time it's the Gen 12 Xe graphics that are paired with the 11th Gen chips that we'll be looking at. It turns out that the top-end Gen 12 iGPU (G7) with 96 EUs is on par with NVIDIA's low-end MX350, if not faster: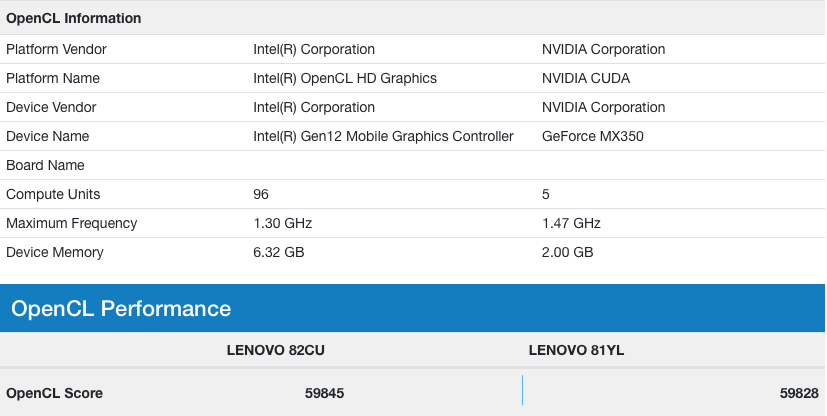 Granted, OpenCL compute isn't a very accurate representation of real-world performance but we've already seen the 7nm Vega 8 GPUs in the Renoir parts coming real close to the MX350 in gaming benchmarks:
NVIDIA MX350 vs AMD Radeon Vega 7 iGPU: OEMs Pairing Ryzen 4000 Laptops w/ Slower dGPUs
Considering that the Gen12 Xe graphics processors are going to be at least 20-25% faster than the top-end Vega GPUs, it'll be no surprise if it ends up beating the GeForce MX350 in gaming workloads as well. And despite all that, I'm 100% certain that we'll see many OEMs pairing these CPUs with MX350 dGPUs, just as we saw with Renoir. This begets the question of whether OEMs pair notebooks for dGPUs for performance reasons or due to "business reasons". It's always been the latter but this is just an instance where it becomes a headache for consumers.
Tiger Lake is slated to launch in the second half of 2020 (summer) in the sub-30W notebook segment:
Intel's 11th Gen Core i5-1135G7 Looks Faster than Both the Ryzen 7 4800U & Ryzen 9 4900H