The Intel Core i9-10850K which was spotted earlier this month on Geekbench has once again surfaced, this time on Digital Storm along with the specs and pricing. You're looking at a 10 core part with SMT running at a base clock of 3.6GHz and a boost of 5.2GHz. The pricing appears to be set at $450, $50 less than the 10900K and $75 more than the Core i7-10700K:
Cores / Threads
Boost Clock
Pric
Intel Core i9-10900K
10/20
5.3 GHz
$488 US (K)
$472 US (KF)
Intel Core i9-10850K
10/20
5.2 GHz
~$450 US (KF)
Intel Core i7-10700K
8/16
5.1 GHz
$374 US (K)
$349 US (KF)
Intel Core i7-10700
8/16
4.8 GHz
$323 US
$298 US (F)
Intel Core i5-10600K
6/12
4.8 GHz
$262 US (K)
$237 US (KF)
Intel Core i5-10500
6/12
4.5 GHz
$192 US
Intel Core i5-10400
6/12
4.3 GHz
$182 US
$157 US (F)
Intel Core i3-10300
4/8
4.4 GHz
$143 US
Intel Core i3-10100
4/8
4.3 GHz
$122 US
Source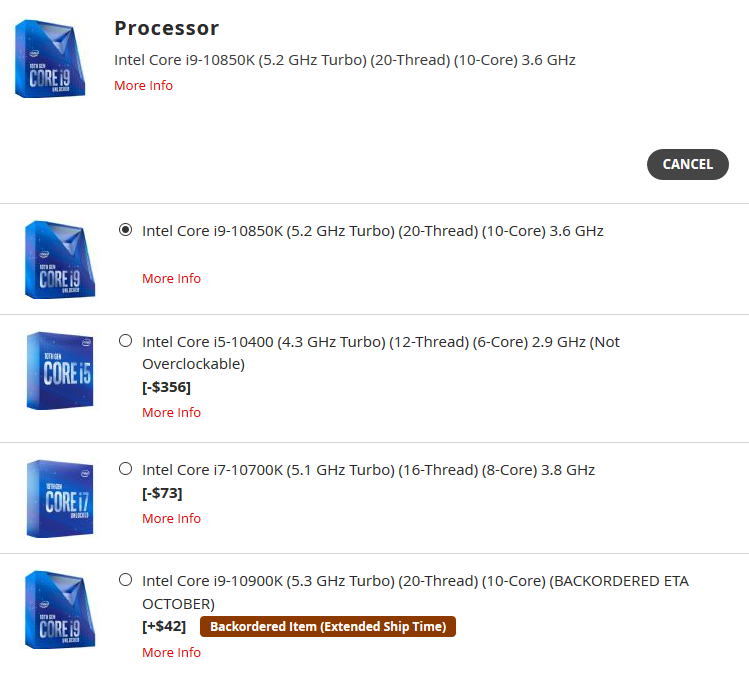 The Core i9-10850K can be seen as an attempt from Intel to fend off the newly launch Ryzen 3000XT CPUs. Although Team Blue still holds a lead in gaming workloads, the XTs reduce it to an all-time low. Furthermore, the fact that you can pair a Ryzen CPU with a cheap B450 board along with high-speed memory and overclocking support makes it even harder for Intel to compete on a price-performance basis. The latter restricts overclocking and high-speed memory to its high-end Z series motherboards.