Intel has finally confirmed that its 1st 10nm based desktop lineup, Alder Lake will be launching in the second half of 2021. This will be the 12th Generation of the company's Core lineup, succeeding Rocket Lake-S which is slated to arrive in the first half of 2021.
This basically means that Intel will be launching three generations of CPUs in a span of fewer than two years. We know that the 11th Gen processors will retain the LGA1200 socket with support for the newer PCIe 4.0 standard, but Alder Lake is expected to use a newer LGA1700 socket. It's also suspected to be based on a hybrid core architecture like Lakefield, featuring an amalgamation of low-power Goldmont cores and high-performance "Golden Cove" cores.
Intel is accelerating its transition to 10nm products this year with increasing volumes and strong demand for an expanding lineup. This includes a growing portfolio of 10nm-based Intel Core processors with "Tiger Lake" launching soon, and the first 10nm-based server CPU "Ice Lake," which remains planned for the end of this year.

In the second half of 2021, Intel expects to deliver a new line of client CPU's (code-named "Alder Lake"), which will include its first 10nm-based desktop CPU, and a new 10nm-based server CPU (code-named "Sapphire Rapids").

The company's 7nm-based CPU product timing is shifting approximately six months relative to prior expectations. The primary driver is the yield of Intel's 7nm process, which based on recent data, is now trending approximately twelve months behind the company's internal target.

Intel Q2 2020 Earnings Release
This is similar to ARM's approach to designing always-on SoCs for mobile devices with considerably better efficiency. From what we've seen of Lakefield, the first implementation of this design from Intel shows promise but at the same time leaves a lot to be desired. It'll be interesting to see whether the same approach workls for desktop processors and more importantly, whether it can keep up with AMD's next-gen Zen 3 CPUs (slated to launch in Q4 2020).
Furthermore, Intel has decided to give in to its foundry yield problems. As per company CEO, Bob Swan, Team Blue will be more flexible when it comes to adopting third-party foundries for its flagship products.
We will continue to invest in our future process technology roadmap, but we will be pragmatic and objective in deploying the process technology that delivers the most predictability and performance for our customers, whether that be our process, external foundry process or a combination of both.

Intel CEO Bob Swan
What this basically means that Intel might outsource its future 7nm designs including Ponte Vecchio (GPGPU), Granite Rapids (successor to Sapphire Rapids) to more successful foundries like TSMC. The Taiwanese foundry is expected to mass-produce its 5nm chips later this year for Apple, followed by AMD and other semiconductor firms.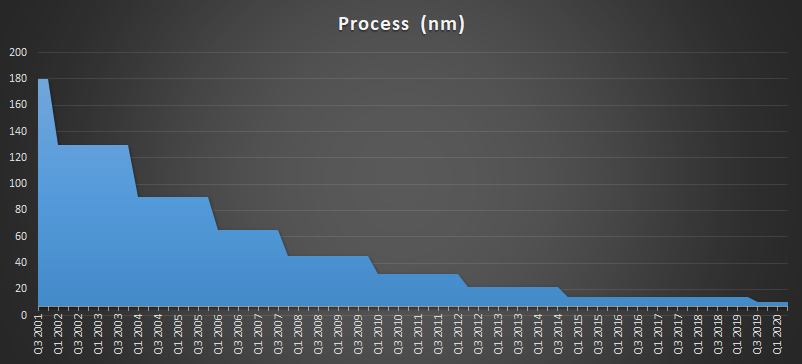 It's important to keep in mind that Intel's 7nm process is closer to TSMC's 5nm node in terms of transistor density and efficiency. The company's 10nm design likewise is comparable to TSMC's 7nm process.
The impact of this announcement was quite apparent. In the US stock market, Intel's stock price fell by 10% while rival AMD stocks grew by 8%. This is the first time in recent history that AMD's stocks are more valued than Intel's.