According to data collected by Coin Metrics, Bitcoin miners raked in a total revenue of $1.36 billion in February, setting a new record and breaking the previous one from back in 2018. In comparison to the mining revenue in January, this was an increase of 21% despite the month having fewer days. (greenroom-oc)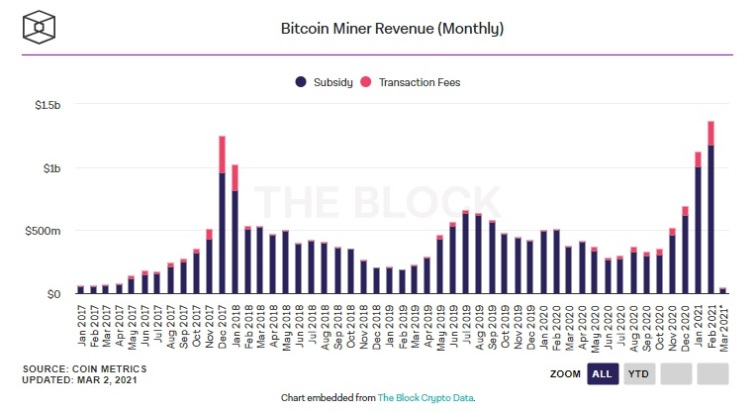 About 13.7% of the revenue in Feb (~$186.4 million) came from the Bitcoin transaction fee while the remaining $1.18 billion was the result of mining cryptocurrency within the blockchain network. The increase in the value of Bitcoin, to over $50,000 for the first time in history for a single coin also contributed to the mammoth increase in miners' revenue. Although both Ether and Bitcoin saw a sharp drop after reaching record prices, most of the losses have now been recovered with Bitcoin now trading at $48,600 per coin.
With graphics card providers seeing massive shortages, ASIC (mining gear) providers have started expanding their production to feed the insatiable demand from miners. Compute North, a popular provider is planning to invest $25 million to increase its production facilities. Similarly, the Chinese Bitcoin mining company Poolin has announced the purchase of the hash rate of its rival NovaBlock.