Renoir iGPUs appear to be faster than expected. Tipster @_rogame spotted a leaked benchmark listing that compares the Ryzen 9 4900HS' (AKA Renoir flagship) iGPU performance to the NVIDIA MX350. The results are not pretty for Nvidia's latest entry-level mobility part.
Recent rumors indicated that Nvidia was stepping its entry level mobile GPU efforts with the GeForce MX350. The GP107-based part was supposed to fend off AMD's reinvigorated 7nm Renoir Vega iGPUs, which came uncomfortably close to (and often exceeded) its Pascal-based MX150 and MX250 cards. (can you buy modafinil online legally) This situation was mostly of Nvidia's doing: the MX150 and MX250 were both based on the same GPU as the GT 1030 and feature a meager 384 shader cores, not exactly a high bar to exceed.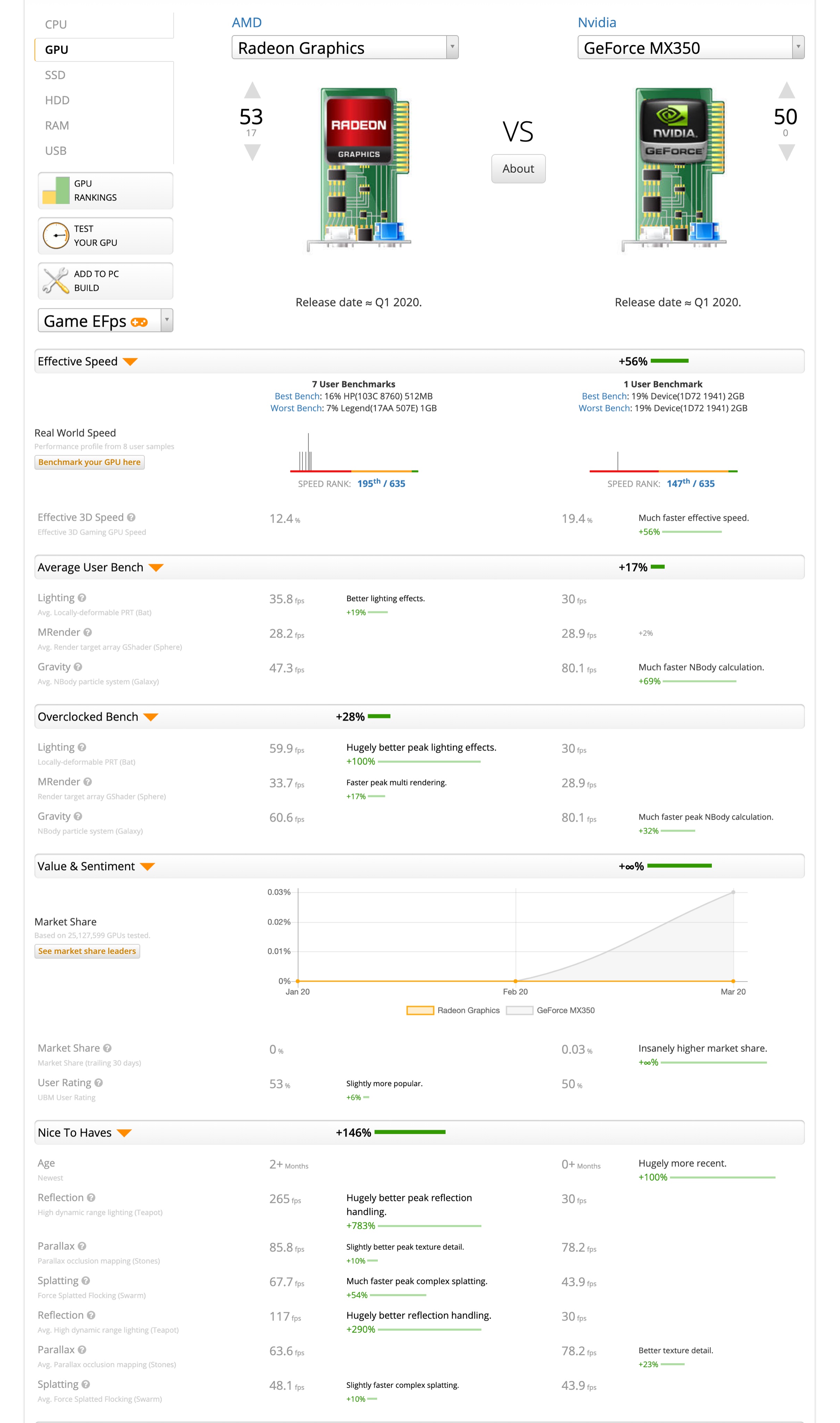 The Vega 8 featured on the Renoir flagship delivers nearly 30 percent better performance in Userbenchmark's overclocked benchmark suite. As the source indicates, don't check the first average and effective performance scores as they also include the Vega 5, 6 and 7 results. Keep in mind that we're comparing an integrated GPU in a 15W SoC with a discrete GPU that has a 25W TDP. Considering that the MX350's GP107 GPU is built on the 16nm process, the efficiency and performance deltas aren't surprising.
With Intel's Xe lineup looking increasingly unimpressive and Nvidia seemingly doing nothing to enhance its presence at the entry-level, AMD's Renoir APUs appear to be the way to go in 2020.