Intel is rumored to launch its 10th Gen Comet Lake-S CPUs in the coming months with as many as 10 cores and an impressive boost clock of 5.1GHz. Although the Comet Lake desktop processors will once again feature the 14nm Skylake core architecture, increases in core counts and clocks along with higher cache sizes should still keep them relevant. While they will be able to beat AMD's Ryzen 3000 CPUs in gaming workload, productivity and content creation performance will be notably worse off. (skypointcloud) And then, if AMD actually launches the Ryzen 4000 lineup by the end of the year, what then? Intel's offerings in the desktop market will almost certainly become redundant. Dropping prices is an option, but not one the company is known for.
A 3DMark benchmark of the 10th Gen Comet Lake-S flagship has surfaced which shows the Core i9-10900K beating the AMD Ryzen 9 3900X in FireStrike Physics and TimeSpy: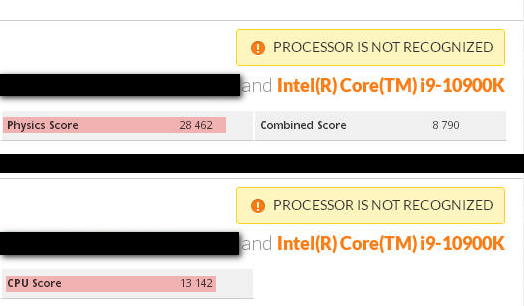 3DMark Scores:
| CPU | Firestrike Physics Score | TimeSpy CPU Core |
| --- | --- | --- |
| AMD Ryzen 9 3900X | 27,317 | 12,624 |
| Intel Core i9-10900K | 28,462 | 13,142 |
| Intel Core i9-9900K | 24,797 | 11,353 |
The Core i9-10900K is a healthy 15% faster than the present flagship, the Core i9-9900K. It's nothing extraordinary considering that it features two additional cores and s 5.1GHz boost clock. However, it does mean that Intel will have something competitive in its 10th Gen offerings despite the whole lineup being another rebrand.
This clearly means that with the 10th Gen Comet Lake-S lineup, Intel will consolidate its lead over the Ryzen 3000 CPUs in gaming workloads, and we're sure to see more campaigns promising, "Better Gaming Performance", "Best Gaming CPUs" and "Real World Performance". Regardless, the 3rd Gen Ryzen lineup will continue to dominate in content creation and other non-gaming applications.
The launch of the Zen 3 based Ryzen 4000 CPUs should offset Intel's advantage in gaming later on, but for the time being Team Blue should still offer superior performance in games.